Enjoy to the fullest the bounty of specially selected
local ingredients from Japan's "gourmet paradise."
Shiraishi and Kiyoishi
The names Dining Shiraishi and Teppanyaki Kiyoishi come from the white stones (shiraishi) and pure stones (kiyoishi) spread around the main building of Ise Jingu. Every 20 years during the famous White Stone Ceremony (Oshiraishimochi) the stones are replaced with new ones as part of the renewal ceremonies of Ise Grand Shrine.
Get your fill of fresh foods from Ise-Shima and specially selected,
scrumptious ingredients from throughout Japan; all in just the right season.
The luxury of dining
in private

Enjoy dishes filled with the bounty of the mountains and
seas of Ise-Shima to your heart's content.
You can feel at ease in our restaurant with semi private rooms.

Dining shiraishi

Enjoy eating foods in just
the right season
to your heart's content.

Our chefs cook carefully selected local dishes such as spiny lobster,
Matsusaka beef and Mikumano beef before your eyes.
Enjoy to the utmost splendid food done to perfection by our chefs.

Teppan-yaki kiyoishi
Preliminary food allergy check sheet
Download the "Preliminary food allergy check sheet" and fax or e-mail it to us at least 4 days prior to your reservation date.
Download〔Excel〕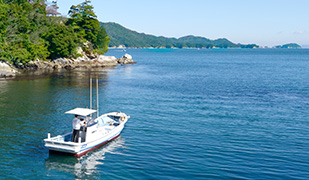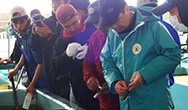 Buying seasonal ingredients at Toshijima market
At Shiojitei we present you with the fresh bounty of the seas purchased in the markets of Toshijima and caught in Ise Bay (Jingu's Entrance). To serve you the perfect foods for the season, our chefs go themselves on buying trips to Toshijima market. In spring, we especially recommend skipjack, in summer, conger eel and abalone, in fall, spiny lobster and in winter, yellowtail. Enjoy the bounty of the seas of Ise, Shima and Toba.
We are ready for any type of celebration.
For guests celebrating birthdays or anniversaries, we can prepare a dessert plate with a special message.
We can also prepare whole cakes for purchase.

Please inform us of the message in advance. Please order whole cakes at least 4 days in advance.